Since our launch in 2014, we have published descriptions of datasets archived at more than 45 different repositories. This diversity is a key part of the Scientific Data philosophy; we aim to support as wide a range of data repositories as possible, within the constraints of our strong policies on data preservation and openness (learn more). So our authors find the right repository for their data, we maintain and regularly update a list of recommended open data repositories, which is also used more widely by the Nature Research journals and our publisher Springer Nature. Last year we also improved our support for institutional repositories.
To further expand the options available to our authors, we recently updated our policies and relationships with "generalist" data repositories – repositories that can host many different data-types from a wide range of scientific fields. We – and many other journals – strongly encourage authors to deposit data to specialist repositories where they exist, and we support data deposition mandates in those communities with centralized data repository systems. But generalists serve an important function in communities without centralized, specialist repositories. Indeed, more than half of our authors use a generalist repository to store some or all of their data, and a lack of obvious data repositories continues to be a perceived barrier to data sharing.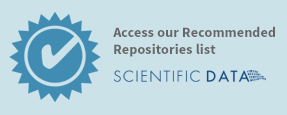 We currently list more than 80 repositories, covering the biological, biomedical, earth, environmental, physical and social sciences. A copy of the list is also available under the CC BY licence via figshare.
Datasets published at the journal can be browsed by repository using ISA-explorer, a webtool powered by the ISA-Tab metadata published with each Data Descriptor.
Today's update adds three additional generalist repositories to our recommended repository list – Harvard Dataverse, Open Science Framework and Zenodo. And, we will continue to recommend figshare and Dryad, two generalist repositories that have been very popular with our authors. The generalist section of our recommended repository list now includes a table briefly summarizing the features of generalist repositories we recommend, with information on their data hosting limits, amongst other information.
We are also pleased to announce that our authors can now deposit up to 100 GB of data per manuscript to figshare at no extra cost, and up to 1 TB for an additional fee. This will be particularly valuable to authors with imaging data, where datasets tend to be large and community repository options few (see, for example, Weiler et al. 2014). Figshare continues to be integrated with our manuscript submission system, giving authors the option to efficiently upload large datasets while submitting papers to the journal (see upload instructions). Dryad also remains integrated with our manuscript submission system and provides data hosting and independent data curation as part of its data publishing charge*.
Research data management resources are developing rapidly as more research funders and journals introduce stronger data policies, offering researchers many new ways to share their data. To enable our authors to continue make informed choices, we are glad to be able to recommend a wider range of generalists, and hope this will help more researchers learn about the important services they provide. Generalist repositories play a particularly important role in the sharing and publication of the long tail of research data that has no specialised repository.
---
*From November 14th, authors submitting new datasets will be asked to pay Dryad's data publishing charge. Check their current data publishing charge before submitting.